eLAIR ENTERPRISES, LLC attended the 2015 International Builders Show (IBS)
in Las Vegas, January 20-23, 2015.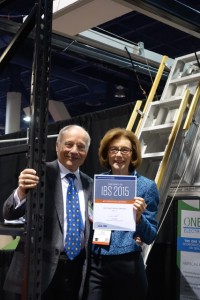 Our automatic stairway was chosen as the "Most Innovative Building Product."  We are very excited and pleased to receive this recognition.  More 2015 trade shows will be announced soon.  We have lots planned in the new year to share the news of this safe, easy and reliable product!
FOR IMMEDIATE RELEASE
Contact: Liz Thompson 202-266-8495
ethompson@nahb.org
www.nahb.org
NAHB Announces Best of IBS Product Winners at 2015 International Builders' Show
LAS VEGAS, Jan. 22—The National Association of Home Builders (NAHB) named the winning products in its third annual Best of IBS Awards held during the 2015 International Builders' Show (IBS) in Las Vegas. The awards were presented during the Best of IBS Awards ceremony on the final day of the show.
This year's Best of IBS Awards received 400 award entries, submitted by nearly 200 exhibitors. Decided by a panel of independent judges made up of attending reporters and building professionals, the awards were given in eight categories, plus an overall Best in Show award. The winners were:
Best Kitchen Product: Bosch Benchmark Wall Oven by Bosch Home Appliances
Best Bath Product: Center Redi Trench by Tile Redi USA
Best Green Building Product: Pure Genius Smart Floor by Lauzon Distinctive Hardwood Flooring
Best Home Technology Product: Haiku 52 with SenseMe TM by Smart Ass Fans

Best Indoor Living Product: SnapRays Guidelight by SnapPower
 Best Outdoor Living Product: Frost Free House Hydrant by Aquor Water Systems
Best Window and Door Product: Next Generation Ultimate Double Hung Window by Marvin Windows and Doors
Most Innovative Building Product: One Touch Electric Stairway by Marwin
Overall Best in Show: SnapRays Guidelight by SnapPower"With a record number of product submissions, the competition for this year's Best of IBS awards was fierce," said Jerry Konter, NAHB's 2014 Conventions and Meetings Committee Chair and a home builder from Savannah, Ga. "The 2015 winners represent the best and most innovative products on the market, and we are pleased to be able to honor them today."
Awards were given to exhibitors with a product or line that shows the best combination of design, functionality and innovation, as well as its usefulness to consumers and/or home builders.
#####